Summer time is beach time on Mallorca. But you haven't been to the island if you didn't spend at least one day in Palma. Explore the medieval center of the capital of the Balearics and feel the buzz of this cosmopolitan city. Full of energy, lifestyle and entrepreneurial spirit. Meet young designers and artisans whose crafts date back to the 19th century. Taste the rich variety of the mediterranean cuisine. And get lost in the maze of narrow streets of Palma's old town.
You will discover some of the most beautiful patios hidden behind old sandstone walls, rusted gates and heavy wooden doors of ancient noble mansions. Stroll along La Rambla and El Born, Palma's two noble boulevards. If you are up to a coffee and a sweet or hearty snack, there are many lovely cafés and a lively specialty coffee scene. Mistral and La Molienda even roast on Mallorca.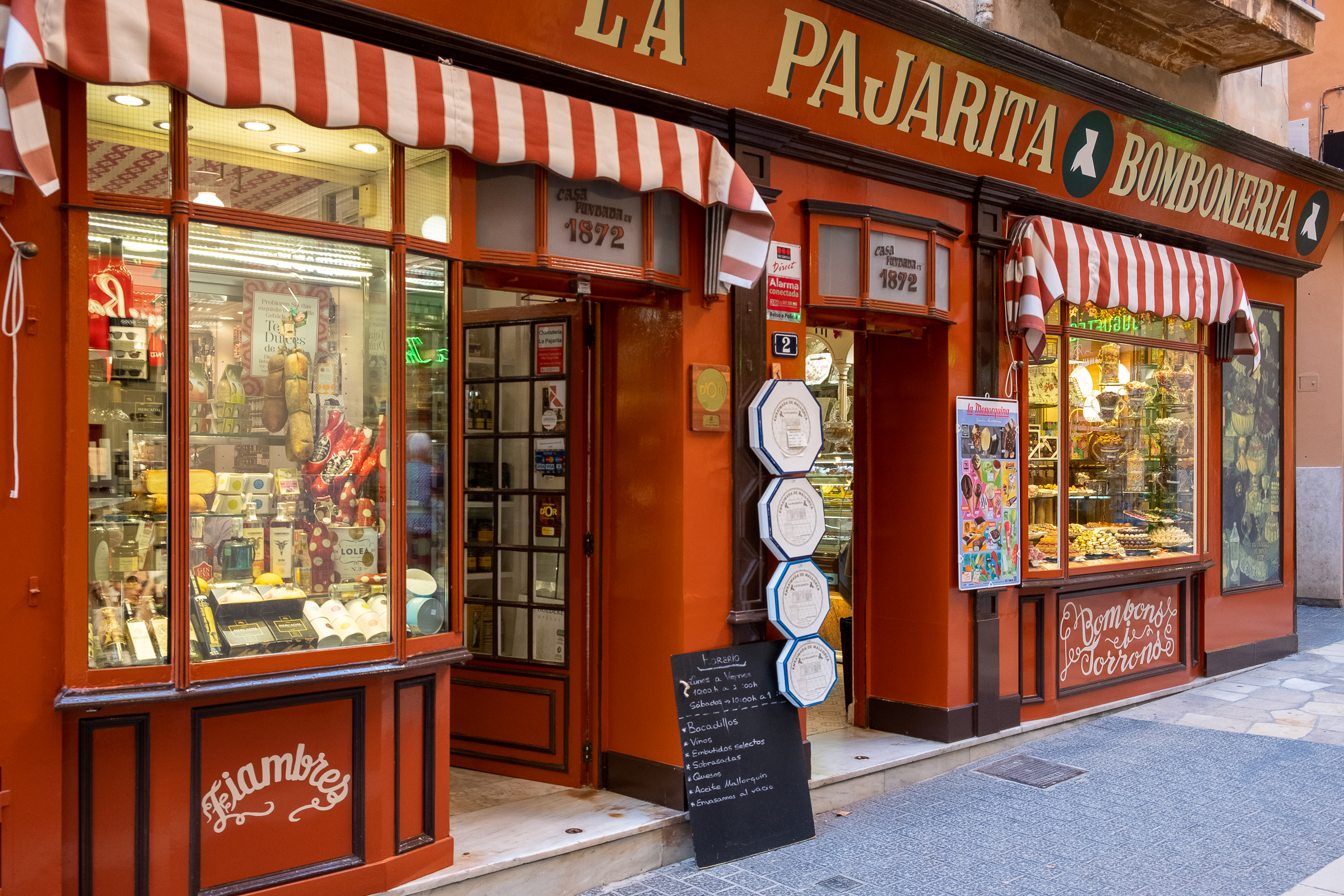 Shopping
When it comes to shopping you'll be surprised to see well-known fast fashion brands located in splendid buildings that make them look like noble boutiques. But you also find an amazing variety of family-owned traditional stores. These emblematic stores preserve traditional crafts and have long become an integral part of the city's history. In addition, Mallorca has a number of young fashion designers, especially for women's wear and shoemaking.
If you haven't been to one of the numerous market halls on Mallorca, a visit to the Mercat de l'Olivar is a must. Indulge in the abundance of fresh produce, discover typical products from Mallorca. Or enjoy a glass of cava and a bite in the hall of the fish market. On Tuesday and Saturday there is also an eco market in Palma.

Tapas
And make sure to try some tapas. Mallorcan cuisine is fabulous and tapas are a great way to try lots of different dishes. Even more so if you share them with family and friends. The choice of vegetarian and vegan places is fantastic, too. Or cool down at the best ice cream parlor in Palma, Heladeria Can Miquel. In the summer months they offer more than twenty different flavors of chocolate ice cream, alone.
What's else for kids? Keep your eyes open and you will discover lots of exciting things on the streets. Maybe you'll meet Nacho, Palma's popular puppeteer, performing with his musician marionettes. 

Museums
Or you visit one of the city's many museums. Caixa Forum, located in the renowned former Gran Hotel on splendid Plaça Weyler, often hosts extraordinary exhibitions for the whole family. And admission is free for children. 
At Fundación Juan March, Can Balaguer or Casal Solleric the historic buildings alone are spectacular. And the exhibitions always worth a visit. Entrance is free, so why not sneak a peak. 

Urban oases
And in case you need an escape from the hustle and bustle of the city just take a break in one of Palma's wonderful urban oases. Tranquil gardens like S'Hort del Rei, Jardí del Bisbe, and the cloister of Sant Francesc.
Or have a rest on the historic rampart of Palma. I come here every once in a while, sit on the thick wall and enjoy the spectacular panorama. Or I walk up one of the ramps, leading further to a hidden aisle or a balcony, overlooking the city's rooftops and adjoining Santa Catalina.
Sunset
The former fishermen's quarter that today is a colorful barrio with lots of small shops, restaurants, and bars. And if you stay for the night treat yourself to an aperitif with a view. The rooftop terraces of Bar Cuba or Nakar have it all. Cool drinks and a marvelous vista of the bay and the old town of Palma. Turning golden in the setting sun. And maybe there's even a DJ who translates this feeling into some cool vibes.