Who would have thought that Palma turned into one of the cities with the most lively coffee scene in Europe. Just a decade ago there was but one coffee shop that served specialty coffee. Today, there are numerous cafés and even roasters on Mallorca. Time to update my choice of best specialty coffee in Palma and introduce you to my recent Top 10 cafés.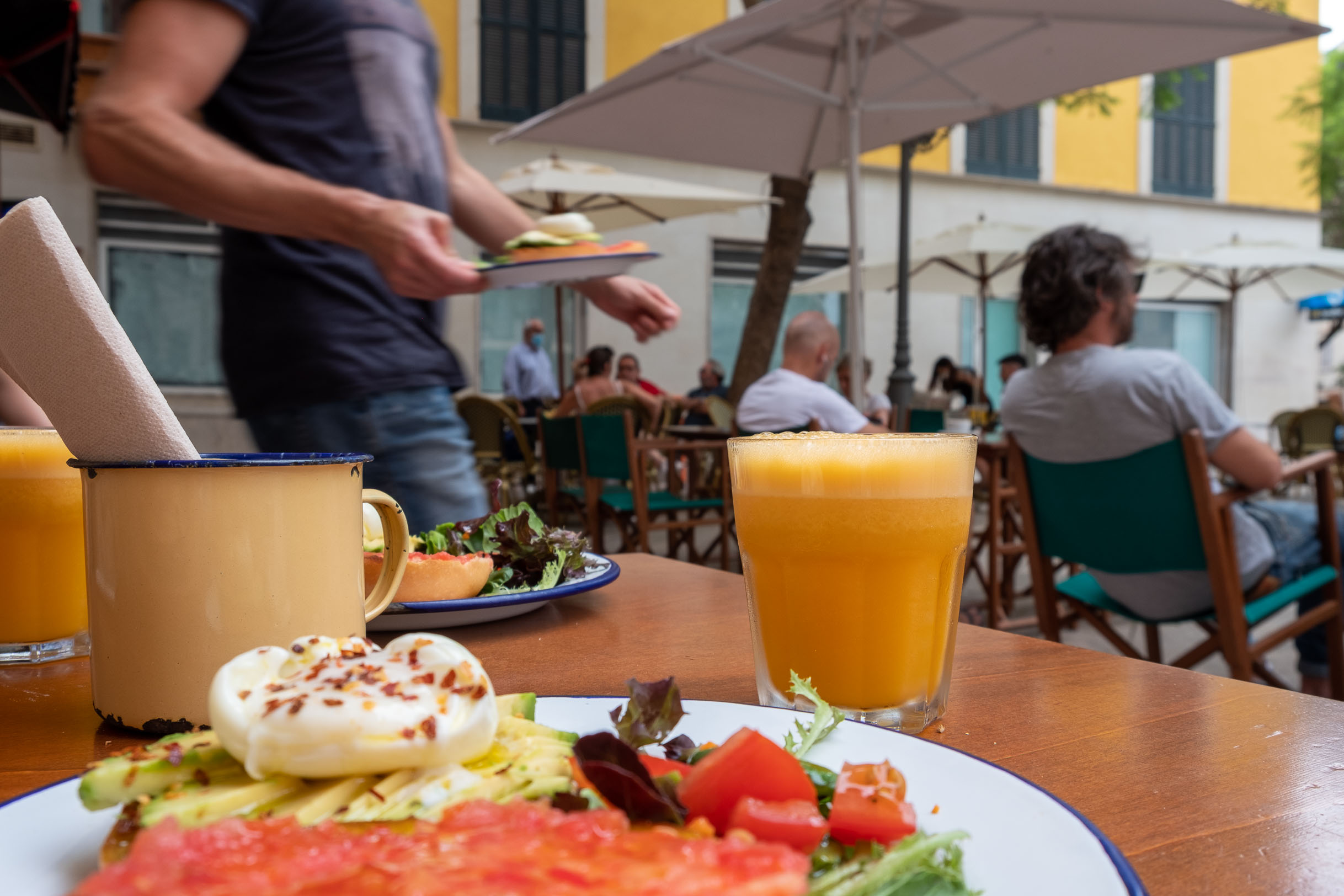 1.  Undoubtedly, La Molienda was the pioneer here. Toni and Miquel started with the tiniest coffee shop in Palma. They began small but they always dreamed big. Meanwhile, there's even two La Molienda cafés. And they became a roaster with its own brand La Base. La Molienda offers healthy vegetarian snacks and freshly squeezed juices, all made from regional and ecologic products. Here's where you get the best avocado sandwich with poached egg. My favorite place is the terrace on Bisbe.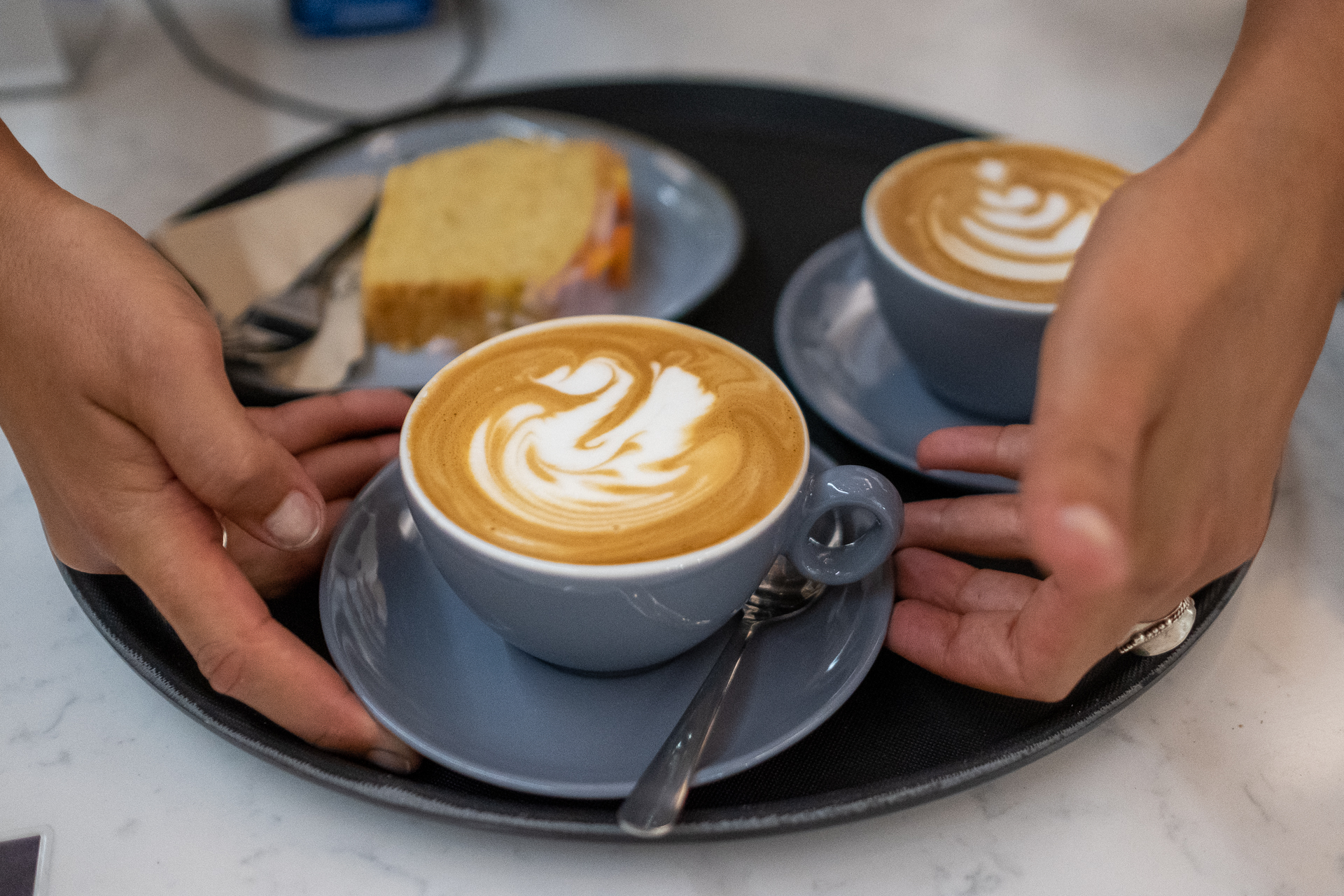 2. Mistral did it just the other way round. Greg and Agata started roasting coffee beans in a small Seattle-style coffee shop near Plaça Major. And in no time Mistral became the most sought-after specialty coffee brand on Mallorca. Sip a cup of freshly brewed coffee right here at the counter. Or at recently opened Mistral Coffee House on Plaça Weyler, next to the splendid former Gran Hotel. A cool urban café that also serves sweet and hearty snacks.
3. My favorite specialty coffee place for lunch is Café Riutort. Joanaina and Albert created one of the most beautiful cafés, an urban style reminiscent of Berlin or Barcelona. I love the relaxed atmosphere and the vegetarian menu. It is not only called formula, it is a true formula for happiness. Make sure to leave some space for dessert. For me the delicious cookies at Riutort are the perfect match for a café solo, they taste heavenly.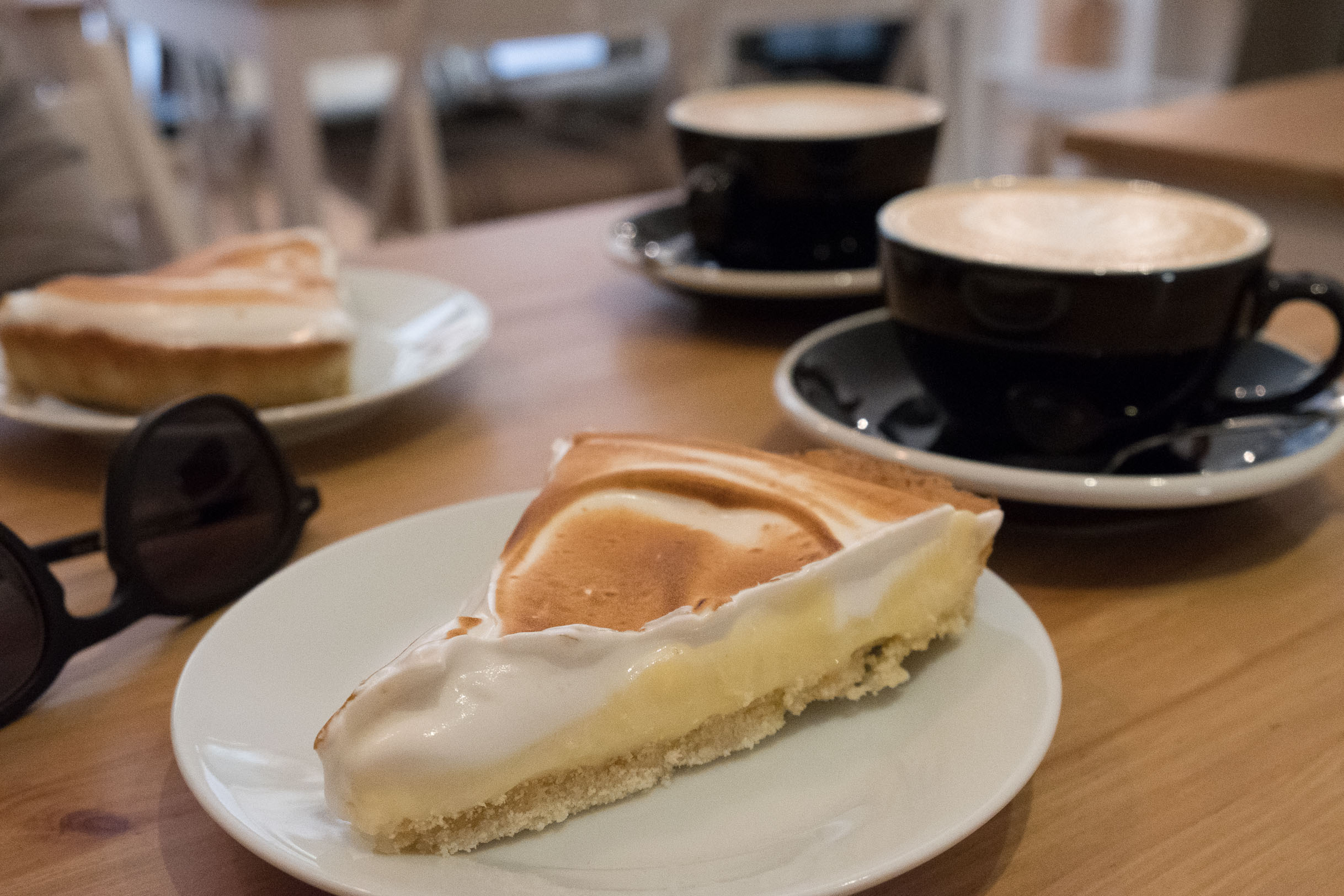 4. Rosevelvet Bakery reminds me of those small European-style bakeries in Williamsburg. Indeed, Rosita and Franer were inspired by their trips to New York when they opened their own café in Palma. Naming it after a genuine American pastry, Rose Velvet Cake. And since Rosita is a master confectioner her cakes are among the best in town. Rosevelvet's kitchen also offers a few hearty dishes like the mouthwatering pastrami sandwich. Meanwhile, you can buy Rosevelvet's fresh bread and cakes directly at their obrador just around the corner. 
5. The Missió neighborhood seems to become the new hotspot for specialty coffee. The latest addition to the scene is Surry Hills. Tatiana and Felipe are from Argentinia but while living in Sydney for a few years they madly fell in love with the Australian café scene. After establishing a first store in Buenos Aires, they bring a combination of Argentinian and Australian coffee culture to Palma, now. Reflected in their brunch menu and unique sweets like the tasty alfajors, a typical Argentinian cookie. 
6. The founders of La Finca consider themselves hijos del mundo, children of the world. Drop in for a cappuccino and a pastry or come for a light lunch at their café close to the avenidas. La Finca's colorful salads and freshly squeezed juices are great feel-good food. And there's also a nice choice of tostadas and llonguets on the menu. Joan Pablo and Sebastian are most charming hosts. I always love to chat about their latest journeys or cycling tours. 
7. Speaking of which, with vintage road bikes and coffee Plumo is the new go-to place for cycling enthusiasts in the heart of Palma. Whether you just want to meet like-minded people, rent a road bike or get even your own bike tuned up in the workshop. Theo and Nilton share a passion for bike races. And they are convinced that cycling is for everyone. At beautiful Plaça Quadrado they now serve specialty coffee and delicious sweets like the fab almond croissants from Thomas Bakery.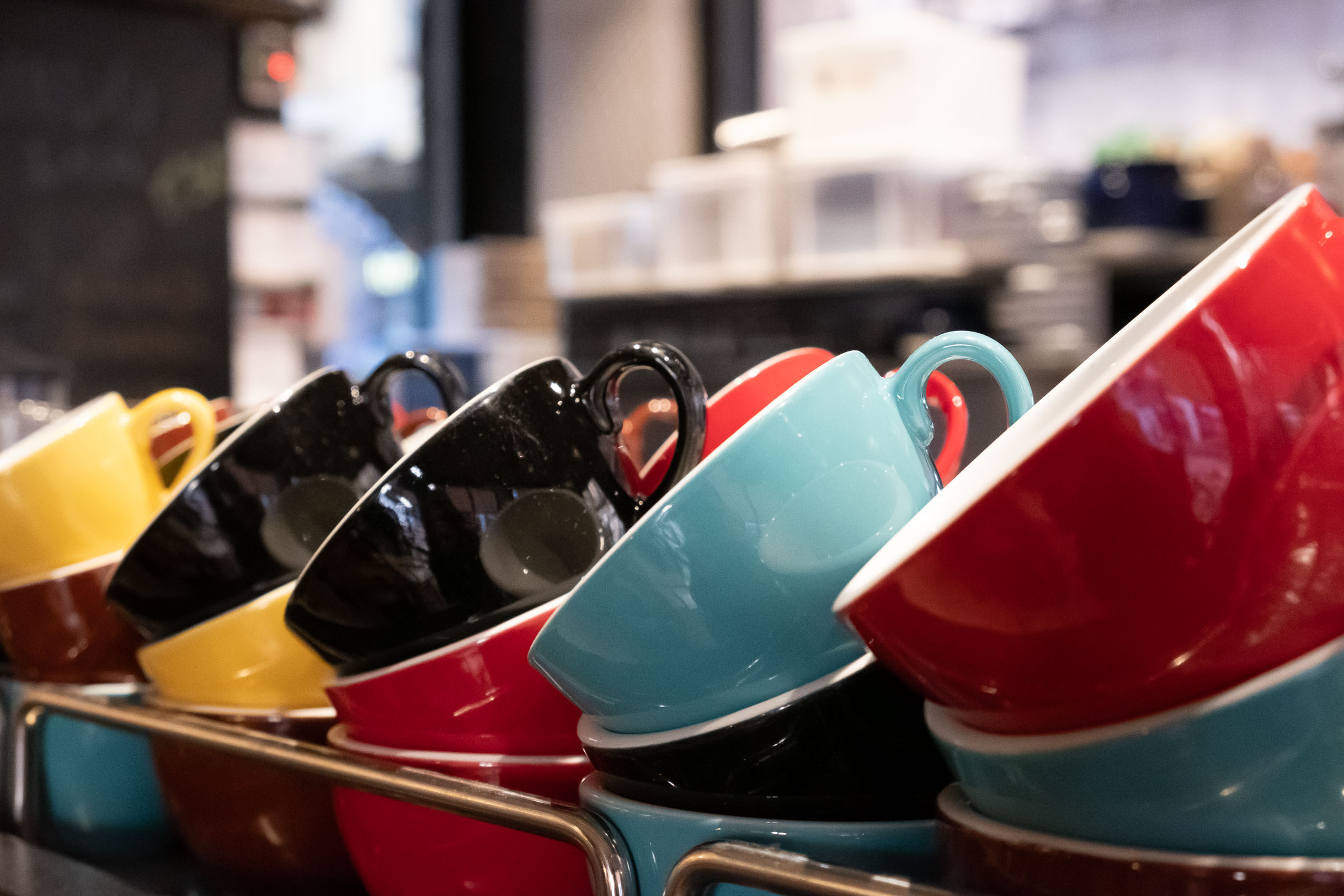 8. The Mallorcan family business Arabay Coffee has been roasting superior Arabica beans since 1952. But it was only a few years ago that they opened their own café. Relish the espresso of the week or choose one of the several filters. All organic and fair trade. If you are hungry there are several tasty snacks to choose from, like tostadas, llonguets and salads plus a choice of cakes.
9. Apart from Palma's casco antiguo, it's Santa Catalina that has the most diverse culinary scene in town. And Mama Carmen's is one of the popular veggie places. Soon it became a coveted breakfast café, with tables outside on the plaza. Here's where you get some of the best mueslis in town, homemade vegan granola and loads of fresh fruit. With his second Mama Carmen's Coffee & Bakery just a block away, Alejandro transformed an old bakery into the mecca for pilgrims of vegan dishes.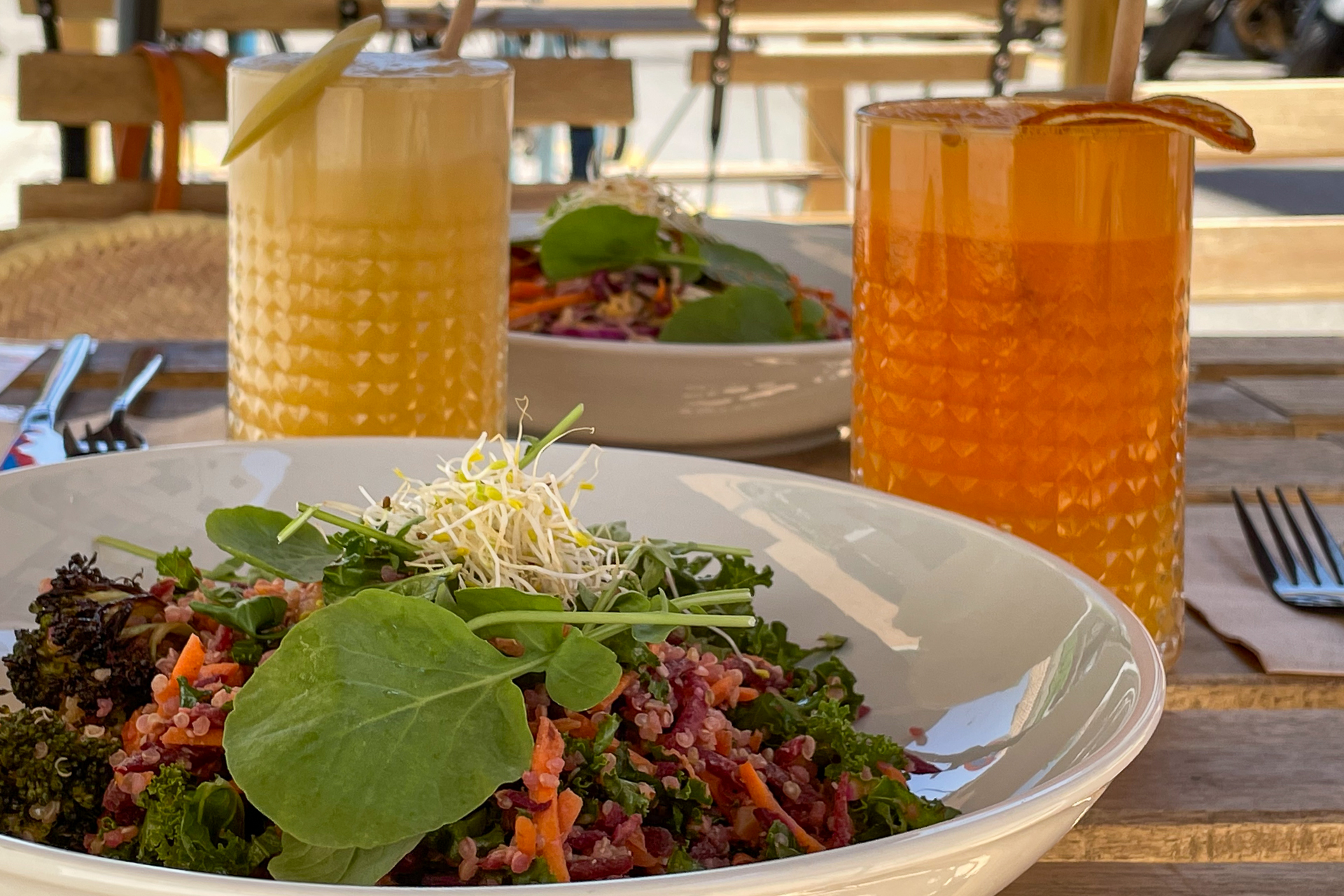 10. The latest addition to Santa Catalina's specialty coffee scene is Café Elefante. The favored Sant Agusti café recently opened an offshoot next to the popular market hall. A great place for brunch. Whether you go for toast, wrap, bowl or smoothie, all ingredients are organic and locally sourced, with plenty of vegetarian or vegan options. Elefante's kitchen also dishes out a few cakes and banana breads that nicely go along with a coffee. 
Do you know how it feels when you crave a coffee or badly need a caffeine fix? I just learned that the Finnish language has a special word for this condition. It's called Kahviraivo. A term that translates into something like coffee aggression, when coffee withdrawal starts and someone becomes extremely bad-tempered. Something you won't experience in Palma since the specialty coffee scene here takes good care of you.

La Molienda
C/ del Bisbe Campins, 11
C/ Arxiduc Lluis Salvador, 9a
Porta de Santa Catalina, 2 (sadly closed again)
Mistral Speciality Coffee
C/ del Banc, 4 
Pl. de Weyler, 3
Café Riutort
C/ del Carme, 25
Rosevelvet Bakery
C/ Missió, 15
C/ de Can Maçanet, 1
Surry Hills
C/ del Carme, 12
La Finca
C/ de la Escuela Graduada, 5
Plumo
Pl. de Quadrado, 1
Arabay Coffee
C/ del Sindicat, 5
Mama Carmen's
C/ de Cervantes, 21
C/ de Rossiñol, 3A
Café Elefante
C/ de Dameto, 2
Av. de Joan Miró, 352, B